At Thanksgiving, Sometimes More Than Your CUP Runneth Over!
11/24/2021 (Permalink)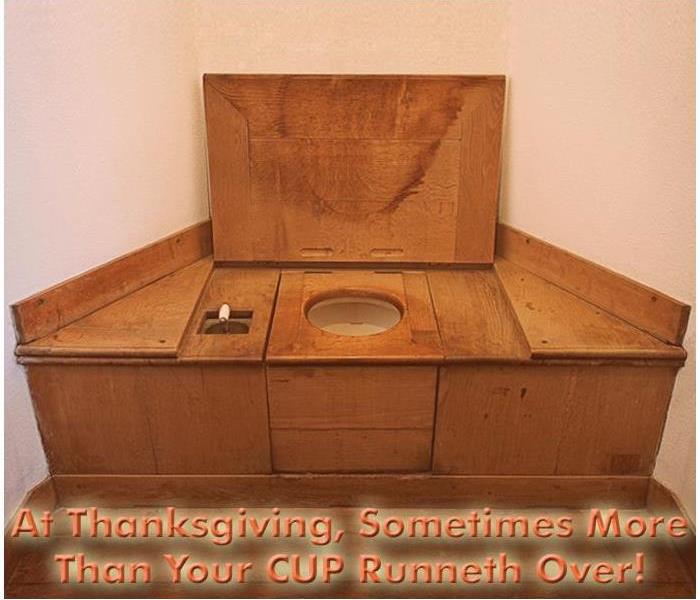 Aside from the kitchen, the room the probably gets the MOST traffic over Thanksgiving weekend is the bathroom…which often cannot handle the "load!"
With the impending Thanksgiving weekend activities, a LOT of places will be brimming with activity over the next several days. Probably the first few that come to mind are retail outlets – for both groceries AND the upcoming Black Friday sales. And let's not forget our hometown entrepreneurs on Shop Small Business Saturday. Fortunately, we get a bit of a break on Sunday to just watch TV, worship…and EAT. Then the internet will be abuzz transferring exabytes of data on both Cyber Monday and Giving Tuesday.
Now, imagine the staffing each of these Thanksgiving extended weekend activities requires. Kind of mind boggling! However, while you would think retailers, dining and entertainment industry workers, along with law enforcement and medical personnel, will probably be preparing for a noticeably uptick, guess who ELSE will be experiencing their historically BUSIEST weekend of the year? PLUMBERS!
Aside from your kitchen (and possibly the TV/family room), what is the room likely to see the MOST use over the next 6 days? The humble (or, not-so-humble) "throne room!" Between the Thanksgiving meal – along with all of the subsequent snacking – and the football binge watching, just on Thursday and Friday alone, imagine how many visitors the bathroom will have. Now, add in any out-of-town overnight guests to that equation. Right?!? And for those who will be burning up the internet at home, possibly stretching their vacation days, that's even MORE use for the "powder room." Of course, we haven't even discussed the kitchen sink or garbage disposal. Suddenly, that whole plumber thing makes a LOT of sense.
To be quite honest, an "overload" of neither is good – and both fall into that dreaded "black water" category. Each teems with all sorts of nasty bacteria and contaminants, which a good ol' fashioned cleaning with soap-and-water just cannot mitigate. Now is the time to call in the professionals, because the health of you, your family and your loved ones is certainly nothing you want to leave to chance…or "good enough!" It's time to call in the certified biohazard experts of SERVPRO of Northwest San Antonio.
Yes, we said biohazard. Those bacteria are living, breathing, MULTIPYING organisms and any one (or, more likely more) can cause health effects! And our team has seen – and trained – for it all. One of our team members actually lived the bathroom "explosion" nightmare, and saw the entire process first-hand. It was quite the educational experience, and gave her an elevated opinion of the thoroughness and efficiency of the biohazard remediation.
The attention paid to even the most minute details, and the extraordinary lengths employed to protect the well-being of not only the human residents, but that of the pets as well, genuinely impressed our team member…just as it consistently does for each of our clients who face a particularly "nasty" situation. No matter how much something other than your cup "runneth over" this weekend, you can always count on our industry-leading biohazard techniques and experts to join plumbers this weekend on standby and ready to respond to WHATEVER "overfloweth!"